Metàfora's Open Week 2023
Welcome to the first edition of the Metàfora Studio Arts Open Week between the 27th February and 3rd March, 2023.
The aim of this course is to open up some workshops from the Academic Year to artists interested in trying something new. On each day of the course we will be offering an experimental workshop combined with our much loved Life Drawing session given by in-house tutor Piotr Perski.
Interested students can choose to dive in and take in the full experience which lasts for a week, or choose one or more days to better suit your schedule.
Easy application
Fill in the following form and a member of our team will contact you. Alternatively, you can directly choose and pay for your course below.
0
Weeks
0
Days
0
Hours
0
Minutes
0
Seconds
Open Week
Application Form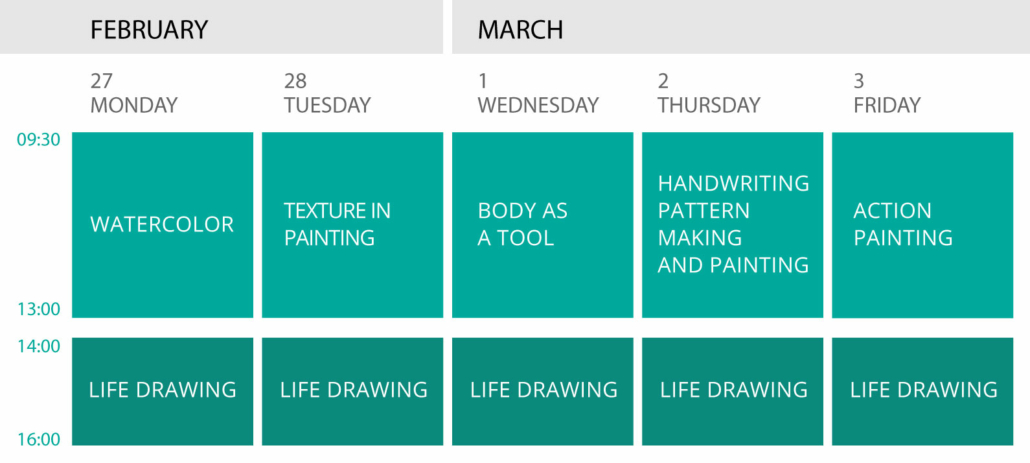 DAY 1
Painting with watercolor
The idea of the workshop is to present basic information related to color mixing, palette, transparency and opaque color in watercolor. We are going to learn how to use brush marks to create various styles and how to make an illusion of the volume in painting. Factors that come into play are the amount of paint on the brush, the speed of the stroke, the angle of the brush, and the type of brush being used. The nature of the paper will also play a part. Work with realistic architectural and portrait images and abstraction.
Date: Monday 27th February
Schedule: 09:30-13:00
DAY 2
Texture in painting
Personal symbols and identity. An introduction to the world of rich textures like (marble and iron dust, wood dust, organic pigments, latex…) and their surprising effects. Work in large and small format, handmade acrylics and oil paintings. Series of small painting with identity symbols. Some artists related to the theme: Antoni Tapies, Jackson Pollock, Anselm Kieffer.
Date: Tuesday 28th February
Schedule: 09:30-13:00
DAY 3
Body as a tool
Performance and corporal expression in large paintings. Work with the idea related to the body and gestures in painting: minimal gesture and maximum gesture. How can the body of the model be used, as the object- tool to paint on the canvas? Body prints as the repetitive abstract element of the painting. Work with and design a performance related to the painting and the body. Some of the artists related to the theme: Yves Klein, Orlan, Niki de Saint Phalle, Lucio Fontana.
Date: Wednesday 1st March
Schedule: 09:30-13:00
DAY 4
Handwriting, pattern making and painting
Series of paintings related to handwriting generated by hand, feet or head movement. Work with various tools: cloth, string and belts, brushes, wood sticks, handwriting as the repetitive pattern and gesture in painting on paper. Presentation of the work of the work of artists: Cy Twombly, Tomasz Musial, Sol Lewit, Louise Bourgeois (insomnia drawings 1994-95), Shahzia Sikander, Keith Haring.
Date: Thursday 2nd March
Schedule: 09:30-13:00
DAY 5
Action Painting
Fantastic experience to explore the power of the color surface, related to the body movement in a large gesture painting. Work with acrylics, latex and dry pigments, big scale painting on paper, dripping, gesture, colur, rhythm and composition. Some of the artists related to the theme: Jackson Pollock, Mark Rothko, Gerard Richter.
Date: Friday 3rd March
Schedule: 09:30-13:00
EVERY AFTERNOON
Life Drawing
Every afternoon Piotr will give his much loved Life Drawing class with a live model. During the series of workshops students will practice working with gesture and movement, mixing dry and wet techniques to create volume and transparency, using alternative materials, working with color, ink, bleach and iodine in drawing.
Dates: Monday 27th February –
Friday 3rd March
Schedule: 14:00-16:00
New! OPEN WEEK 2023
3 Day Package
Dive in and try all the experimental drawing and painting techniques we're presenting! Take the complete package at a discounted rate.
Texture in Painting, Body as a Tool, Handwriting and Pattern Making & Painting
+ a different Life Drawing workshop every afternoon
Dates: Tuesday 28th February – Thursday 2nd March
Schedule: 09:00-13:00 and 14:00-16:00
Lunch break between 13:00-14:00
Other ways of attending the course
Metàfora's Studio Arts Program is designed in accumulative blocks that start several times a year. This means that students can join the art course for one block (which lasts for 4-6 weeks) and then decide whether to stay on for longer.
Stay from 4 weeks to 3 years
In our Tools & Techniques modules students can choose 1-3 workshops per week and stay for 4 weeks. These practical workshops range from Life Drawing to Graffiti to Printing Techniques.
In our Practice + Discourse modules students focus on developing their personal artistic discourse with the support of our in-house tutors for 6 weeks.
Short Term Stays are for students who would like to combine the Tools & Techniques and Practice + Discourse modules in a full-time format for a short period of time. We call these Blocks.
Stay from 1 Block to 5 Blocks. There are 5 Blocks in one academic year.
The full-time Metàfora Studio Arts Program lasts for 3 years. Students can start at Foundation level (Year 1) and eventually progress to the Certificate (Year 2) and Diploma (Year 3).
Students who select any of the Metàfora part-time options have a co-working space and storage until the end of their stay.